We love helping our customers.

Working on computers is our passion. We are a group of individuals who have come together to work towards achieving our goals.

ML Geek Services is located in Southwest Fort Worth. We have easy access to our location and we will pick up and delivery deliver repaired computers to our customer for free within a 10 mile radius of our location.
Contact Details
Products & Services
DC Jack repair
When the DC jack gets damaged, you are unable to get a complete contact between the power supply cable and the dc jack. Sometimes moving the power cable or putting it in a certain position may cause the laptop to turn on or charge the battery. Eventually, you are unable to charge your laptop and it doesn't even come on anymore. We recommend bringing in your laptop for repair the first time you start noticing any difference.
---
LCD screen repair
- Laptop LCD/LED screen repair (in most cases we have the screen available in stock)

-tablet screen digitizer assembly repair (in most cases we need to order the screen for tablets)

-damaged led lcd screen cables replaced
---
Website Design & SEO
At ML Geek Services, we provide a wide range of web site development and Search engine optimization services. Experts in WordPress, PHP, Ecommerce Design and shopping cart software. Our web design services are done in house in Fort Worth by local experts. We list your business in major search engines such as Google, Yahoo, Bing and now Yelp. Along with websites and apps, we specialize in increasing the online presence for your business. You can track traffic and calls. Everything is quantifiable and measurable. We also set you up with hosting, choosing the right domains based on strategic keywords for your business. We help you propagate the web quickly with Search Engine Optimization and links along with Google Places and more.
---
Computer Repair
We provide Computer repair for PCs and Mac, Website Design Services in and around Fort Worth

Motherboard replacement, LCD screen replacement, power supply replacement, keyboard replacement, batteries, dc jack repair, laptop and desktop repair services in Fort Worth.
---
Business IT solutions
Small businesses in and around Fort Worth have counted on ML Geek Services for business solutions. We go above and beyond in helping our small business clients as we understand the need for quick response time and accurate resolutions for businesses. Whether you require business network setup, network troubleshooting, computer system diagnosis, monthly maintenance package, 24 hour service, ML Geek Services will be available 24 X 7.
Customer Testimonials
ML Geeks is fast, flexible, and fixed my laptop screen no problem! As a college student, it's kind of hard to fit in something as crucial as laptop repair on a time crunch. But Mona was so awesome and worked with my schedule to make sure that my laptop screen wasn't just fixed, but it wouldn't have the same problem in the future. If anyone is looking for great service, ML Geeks is the place to go!
---
Wonderful, knowledgeable and a quick online fix to my software problem. I didn't have to leave my home and they did it on a weekend for more than a fair price. Who could ask for more?
---
ML team was a life saver. I had an issue with a server conversion, that issue created email and other critical software outages. I called ML at 5:15pm and they were at my door at 7:30pm. Professional, efficient and friendly. Very knowledgeable and effective. Issues were solved quickly and I was up and running shortly after. I strongly encourage home and small business user's to utilize ML Geeks when the need arises.
---
Mona is so helpful and customer-oriented. I had her fix my laptop and she came to my house and picked it up and brought it back for me. It works great now! It's a seven year old laptop so I really had my doubts as to how well it would work but it's fine. I even had another question for her a few weeks later and I called her and she helped me over the phone no charge. I offered to pay her but she turned that down. She is now in my phone contacts list and I will use her for all my computer issues in the future.
---
Okay what can I say about this very wonderful lady go to ml geek Services she is so sweet and helpful and put you at ease when your computer is completely blown in your mind and I appreciate it very very much she is where Camp Bowie splits and is about to go into the traffic circle in the big building like about five stories 10 I don't know what it is but she is so helpful and she's on the first floor if you need help with your computer go to her the very nice man at the battery store on Camp Bowie gave her the referral and we appreciate that also I can't wait to get my computer back.
---
I was having trouble with one of my drivers and couldn't not play games on my steam account. So I walked into ML geek and Mona took good care of me and fix my issue fast within 24 hours I had my computer back and running better then it ever has before. I would definitely recommend anyone who has problems with the computer to come here first there prices are very good and fair they also make websites optimize them SEO ect. they are very friendly and kept me up to date through out the time my computer was being worked on i give them 10 Stars!!!
Social Activity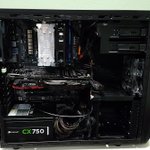 Custom PC design https://t.co/40bKfxrCcv
Nearest Businesses